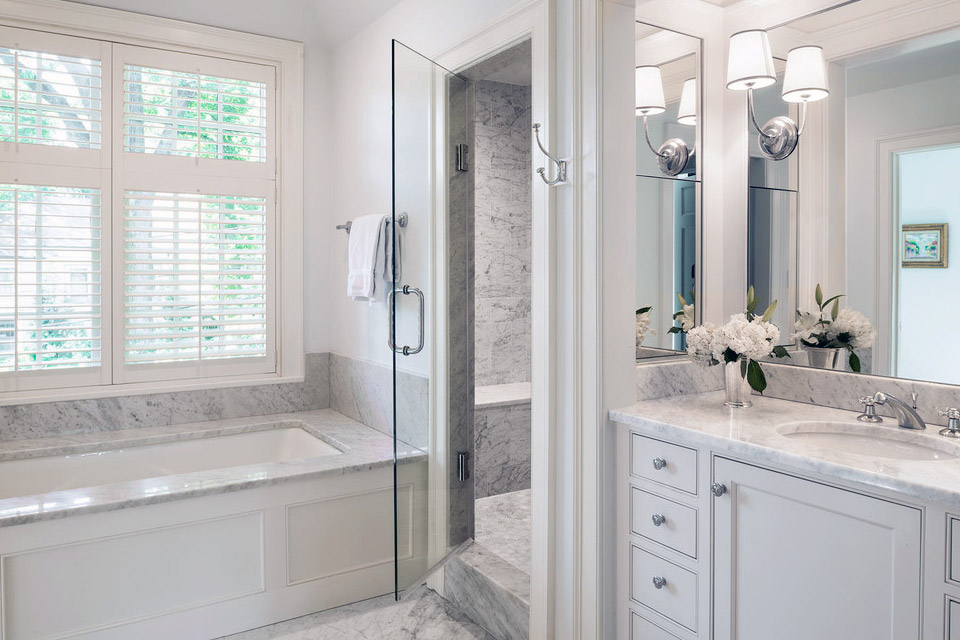 No matter how much you clean, your bathroom is a breeding ground for mold. Black mold can show quickly and be difficult to completely remove once it's appeared. Humidity claims the credit for that.
If you want to keep your bathroom mold-free and clean, it is very important to take the necessary precautions in order to prevent mold from growing in your bathroom. Use our tips and tricks to reduce the bathroom moisture and keep it under control.
Get a Good Fan
The first line of defense against a humid environment is an effective fan. Check the CFM volume of your fan, usually marked on a label under the grill. Replace it with a larger model if it's too small for the size of your bathroom. To calculate the ideal strength for your fan, multiply the square footage of the room by 1.1 if your ceiling is 8ft or 1.5 for 9ft.
Keep your bathroom fan on before you start your shower or bath, and leave it on for at least a half hour after each shower. A good way to manage this is to put the fan on a timer–that way, you don't have to go back to the bathroom to turn it off later.
Ideally, you want to keep the humidity level at or below 50%. Opening windows, running the fan, and improving ventilation are all ways to do this.
Love Your Squeegee
A good way to reduce the amount of moisture from the bath or shower walls is to use a squeegee. After all, it also helps to keep your shower glass clean. You can also use a washcloth to get to the tile grout and corners where mold has a tendency to start growing. Just by running a squeegee on your tub or shower walls right after washing eliminates at least 3/4 of the moisture. That's a lot when it comes to suppressing mold and mildew growth.
Take Care of the Grout, Caulking and Sealant
Cracked grout is the perfect surface for mold to grow on, and it's often the place where you can spot it easily. Replacing your shower grout every 6 months is the most important step you can take to keep mold out of your bathroom. Seal the grout lines with a standard grout sealer to waterproof them.
If your caulking or sealant already has mold growing, cleaning won't help. Sadly, you'll need to replace it.
It's best to clean your tiles and grout once a week with a pH-neutral cleaner, to prevent mold from invading and developing. You can use a solution of 10 percent bleach and 90 percent water (a stronger bleach solution will not give better results). Spray or brush on the solution, let it sit 10 minutes, then rinse it off and let dry.
Check and Fix the Leaks
Bathroom mold doesn't just come from the water in your shower or bath. Leaks can also cause moisture to accumulate and mold to grow. There are a few ways that you can check for water leaks. These include spotting mold and water leaks by looking for:
Sounds of dripping, trickling or rushing water
Stains on the walls or in the ceilings
Musty or damp odors
Sudden changes in water pressure
Damp or wet areas
A sudden increase in the water bill
If you've found a leak, fix it right away if you can, or call a plumber to do it for you if you need to. Waiting will only make things worse, especially if mold takes hold and starts growing. It's a lot harder to get rid of mold than it is to prevent it. The Florida Department of Health provides more details on how to investigate a mold problem, rather than testing or sampling it on your own.
Wash Towels and Rugs Regularly
After using a towel a couple of times, wash it in hot water and ensure it is completely dry before you store it back.
Check your bathroom mats for possible mold signs and wash them in the washing machine if you have the non-slip kind. You should opt for very absorbent floor mats to ensure the water splashed during showering doesn't find its way to your tiled floor.
If you have shower curtains, take them down and wash them in the washing machine if the fabric allows it. If you notice dark spots on them, do not try to clean them up – throw them away immediately.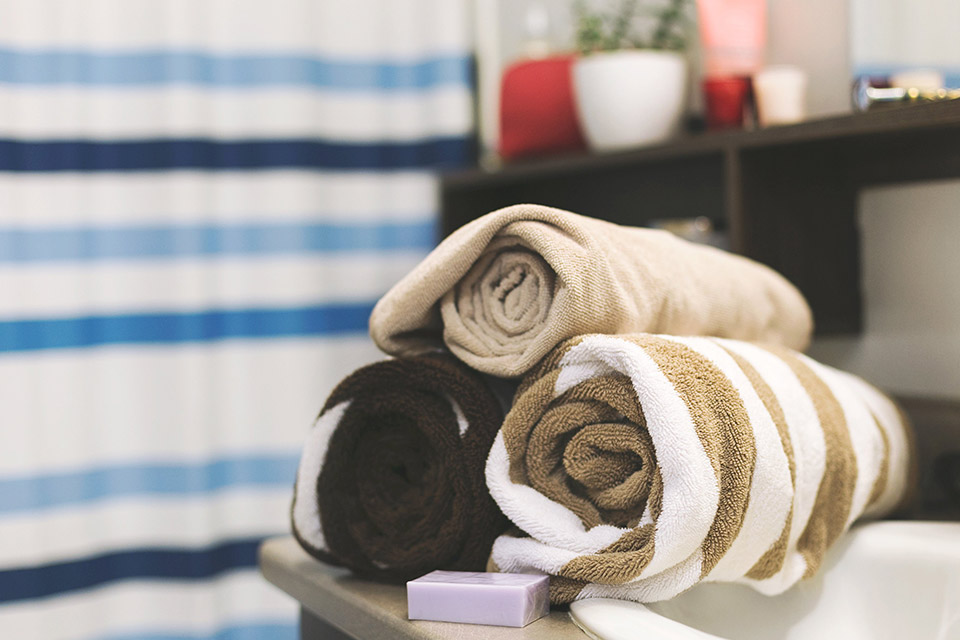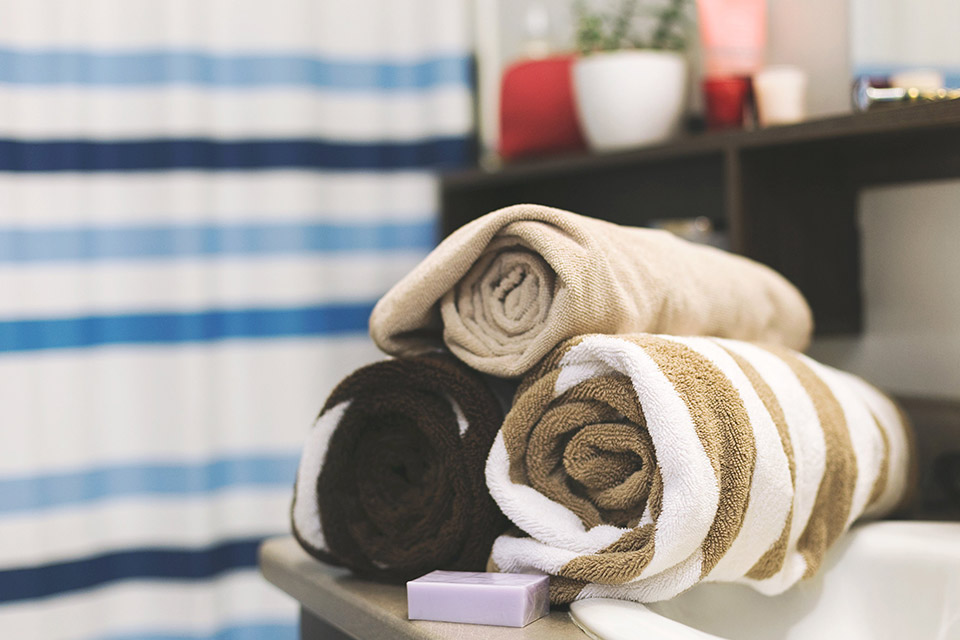 Keep It Clean
Keeping your bathroom clean with at least a weekly cleanup will help keep mold at bay. Wipe away leftover water from corners, spray a little cleaner on your walls and tub and wipe it off with a soft cloth. Remove soap scum (a great breeding ground for bacteria and mold!) wherever you find it.
No matter what you do, DON'T scrape mold with your fingers or scrub it dry with a brush as this will cause living mold spores to fly up in the air where they'll find somewhere else to land, thrive, and give you additional headaches.
Here are a few cleaning solutions to remove mold:
Natural Mold Remover
2 tablespoons of borax
1/4 cup white vinegar
2 cups hot water
Combine the ingredients above in a bowl, stirring until the borax dissolves. Pour into a spray bottle and liberally apply on painted walls, tile or other non-porous surfaces. Scrub thoroughly and wipe clean. Spray again and let sit 10 minutes before wiping dry.
Bleach-based Mold Remover (for more stubborn mold)
Bleach kills mold but does not prevent new colonies from forming. To kill existing mold, use this solution then follow the steps below to prevent it from returning.
1/4 cup bleach
2 cups warm water
Combine the ingredients above in a spray bottle and liberally apply on painted walls, tile or other non-porous surfaces. Scrub thoroughly and wipe clean. If any mold remains, reapply and let sit 15 minutes before scrubbing. Spray again then wipe clean.
NOTE: Do NOT use this bleach method immediately at the same time, or even on the same day, as any other cleaning product. There are some cleaning products you should never mix, and bleach is one of the most dangerous among them.
Safety Tips:
When using bleach always make sure you have adequate ventilation and wear a respirator
Wear gloves
Wear old clothes – if you splash bleach on your clothes it leaves spots where the color is severely faded
White Vinegar
Vinegar is a great natural cleaner and is known to kill most varieties of mold. It can be applied as straight vinegar or diluted slightly if the smell is too strong for you.
Baking Soda
Mix baking soda with small amounts of water to form a paste and let it sit on the mold affected area for 10 – 20 minutes. Then use a bit of elbow grease and a nylon brush to scrub that mold out of existence! If you want to make a stronger paste, then use vinegar instead of water – just don't use too much vinegar to avoid a "volcanic" reaction.
Hire a Regular Cleaning Service
Regular cleaning helps prevent a buildup of stubborn mold and other stains. Clean4Real Cleaning Services offers affordable cleaning services for your home or office. Our deep cleaning helps to prevent the development of mold, allergens and other toxic intruders. Contact us today to learn more and receive a free quote.